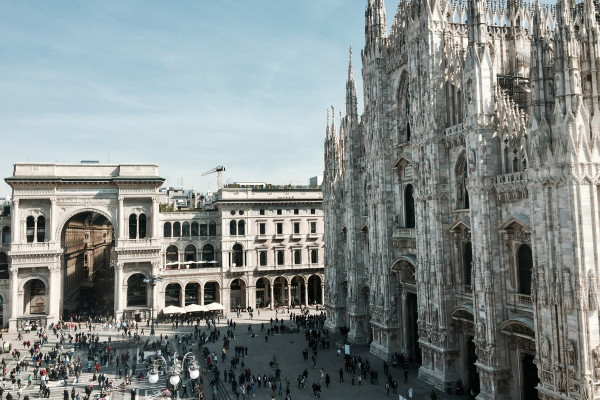 La Madunina, the Duomo, the Galleria Vittorio Emanuele II, La Scala... This is what you must see in Milan when you visit it for the first time: in other words, a guided walking tour through the heart of the city is a must!
All the iconic monuments and buildings, those on every postcard of the city, in a single itinerary with our professional guides. A guided tour dedicated not only to tourists but also to all those Milanese who every day live more or less unaware of the jewels of the city: a Milan that is daily in front of our eyes, which everyone admires but very few know in depth.
Guided visit by our professional tour guides
Discovery of the historical city centre of Milan
Small groups in english language to understand the history of the city centre in the best way
Durata
90 Minuti
Informazioni importanti

Booking voucher to be shown at the tour guide

What you can expect

Guided visit by NEIADE Tour & Events, conducted by professional tour guides in english language
Radio Headset for a better listening of our tour guide (guaranteed at the achievement of 16 people)
Smal groups of maximum 25 people

Covid-19 Protocol

It is NOT NECESSARY to have the GREEN PASS to participate.

Some simple rules for everyone's security and to enjoy the tour:

• Obligation of having a certified face-mask, that can possibly cover nose and mouth

• Invitation to the participants to keep 1 meter of distance from each other

• Prohibition of participation for those who present flu symptoms or those who are in quarantine

• If a participant manifests symptoms attributable to a Covid 19 infection in 10 days after the tour, is required to contact Neiade Tour & Events (info@neiade.com) in order to warn immediately the other participants
Luogo dell'evento
We ask you to show up in the meeting point 10 minutes before the start of the tour.
Piazza Duomo, in front of the Camparino
P.za del Duomo, 21, 20121 Milano MI, Italia
M1, M3 Duomo
Offerto da
NEIADE TOUR & EVENTS
20121 - Milano